Entry 115

Chinese New Year is going to be over..
which mean it is time for me to leave the country
yupz leavin today.
My flight to sydney is 10.20pm
well leaving for KLIA before 7pm..
but as usual m'sian..
with the waiting and etc..
i think we will leave later..
hopefully we will reach in time.

Neway a whole new journey awaits me
in the down under country ..
Aussie land
hopefully everything will turn out fine..
please do keep me in prayer..


here are some pics..
CNY was great..
there are too many pics..
so here are just a few..



the journey to Yong Peng in Johor ..
normally takes 2.5hours..
but last sat it took 5 hours..
thanks to the heavy downpour
and the closing down of 3 lanes to 2 lanes
well neway glad we reached .FINALLY !!



pics with grandma..with some aunties & uncle & cousin



grandma with some of her grandchildren



me& cousins at mamak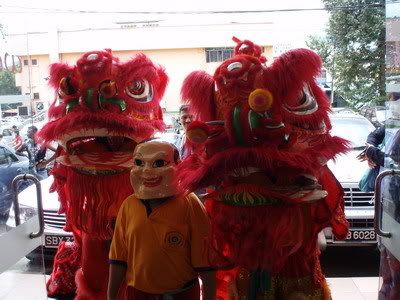 lion dance..(they pose for me ..for real!!)



BAILEYS ... it taste real good like the irish cream with alcohol
thanks albert for that and all the meal that u belanja..
including the satay & mamak session..at 3.30 am..

Updates bout my thumb..
well when i was back in my dad's hometown in johor..
i went to do dressing for my wound..
and
guess what



behind this...there are



9 stitches..



during the dressing..

Meeting up with some friends..
Sorry i can't meet all of you..
i am super sorry
but do keep in touch yeah!!
i didn't have any farewell party
coz partly i was busy and have limited time
and also coz of CNY..



me n uncle kevin



thaesigen n me



hon chien . gaya . monica . me



me . abygayle . priya

DUE TO MY INJURY OF MY THUMB..
I LEARNT A NEW METHOD TO PLAY BADMINTON !!
yeah my hand really iched to play badminton
so i have my operation done on thurs ..
and on sunday i started playing badminton again..
but bit cacat..
but at least better than nothing duh!!



normal way of holding the racket
but this will hurt my thumb..

SO
i tried this instead...



putting the racket between my pointer finger and my middle finger
and it did work..
but bit cacat la..

and the last method was this..



hold it like normal but try to put my thumb away from the racket
it worked too..

so..
yeah
that is about it..
adios..
take care n God bless

email me yeah..
and i will reply to you asap..

cheers

ruth
Misc
Cbox
Time Zone
Sydney,Aus
Kuala Lumpur,Malaysia