Entry 347

So it was 23 Nov 2008, 9 days ago.
It was a suprizingly interesting day despite not making any plans in advance.
Thanks to everyone who made my day a great one when i least expected it !!
Thanks for turning my rough week into a week i will remember and appreciate !
Thanks to everyone below and to anyone i have missed out i do appreciate your wish too!!

Via calls
1.Wy Lyn
2.Tan Jia Hai
3.Ally
4.Mei Yee
5.Prassan
6.Family

Via Msn
1.Moahan
2.Andy
3.Goh Wen Hon
4.Se-on
5.cynthia khoo
6.Ashura
7.Navin Prasad
and heaps of other people..sry lost track but you are all appreciated !!

Via In Person
1.Caitlin
2.Stacie Rosenfeld
3.Tanya Ezrol
4.Deanna Ezrol
5.Jack Tran
6.Jack Lim
7.Ai Vee
8.Noelle Kan
9.Ashely Tan
10.Anne

Via Sms
1.Gan Fiona
2.Dad
3.Jack Lim
4.Magdalene
5.Wen Zhen
6.Gan Nicholas
7.Rachel Chan
8.Kae Yi
9.Wy Lyn
10.Larissa Strong
11.Monica Khoo
12.Irwinder
13.Tim
14.Amanda Chin
15.Reuben Chan
16.Alicon Chang
17.Erika Khoo
18.Jerome
19.Lynne

Via Email
1.Rosesela

Via Cards:
1.Christine, Carolyn, Philip, Mum& DAD!
2.Gan Fiona
3.Gloria Truong
4.Esther Tan & Ashley Tan
7.Natelie
8.Erica Kim

Via Blog
1.Fiona
2.Py
3.Melissa Woo
4.Gan Nicholas
5.Ainsley
6.Didi
7.szerhui

Via Facebook
1.Nurfarahain Nasir
2.Avin Jeyaseelan
3.Renie Lau
4.Grace Kwok
5.Christine Tan
6.Farah Hanna
7.Mark Tan Yean Cheen
8.WanLu Sang
9.WenHsia Tan
10Joelle Low
11Se-on Lim
12Derk Aun Lee
13SueAnn Yeong
14Christina Seow HS
15Ivan Lo
16Lynne Miranda
17Shereendar Kaur
18Hui En Leong
19Jonathan Lee
20Ho Shermayne
21Alan Jiahai
22Jenny Tan Wei Inn
23Atisya Yunus
24Chin Looi Goh
25Charles Chan
26Pang Ping
27Yintse Su
28Jillian Soh
29Alicia Rao
30Karena Cheow
31Gary Lim Chee Kiong
31Koh Xuan Hun
32Priya Uni Krishnan
33Christopher Chan
34SiewYin Yong
35Sean Lai Wee Loong
36Hannan Manan
37Avtarjeet Singh Bhullar
38Joanne Chin
39Tabitha Lim
40Fiona Gan
41Seok Kheng Tan
42Vildana Krslak
43Elizabeth Yong
44Nic Mabardy
45Deepa Pandit
46Anna Yap
47Arniza Khairani
48Sandra Wong
49Dan Sheppard
50Nimra Durrani
51Michelle Tan
52Michelle Mak
53Phill Dernee
54Vincent Tan
55Vhilaa Raaj
56Kim Illingworth
57Pei Hwa
58Aaron Sim
59LiCheng Leong
60Audrey Hee Sze Yin
61Henry Teoh
62Bhavani Ananda Kumar
63Kristian Laureano
64Zaid Zawawi
65Tim Wong
66Anisha Kulkarni
67Ken Loh
68Melissa Woo
69Shashank Sapatnekar
70Elaine Ho Koon Yee
71Carlie Rue
72Matthew Lee
73Choo Jin Wai
74Gloria Truong
75Antonia Schlesinger
76Tan Ai Vee
77Tom Chesterman
78Annora Ong
79Sara Ong
80Pranav Rampal
81Jackie Aherne
82Li Jing
83Wei-I Wong
84Wong Jay Rick
85Yinfei Chan
86Julien Rondeaux
87Shonek Diwakar
88Goh Wen Hon
89Poh Jiat Chie
90Rebecca Lawrance
91Jeremy Tan
92Tim Lam
93Sarah Iqbal
94Esther Yap
95Reuben Chan
96Charlene Anne Lee
97Geoff Morales
98Nancy Ng Yik Shez
99Izza Hana
100Eric Lai
101Ajim Mazlan
102Rebecca Lee
103Taegan Guthridge
103Prashanth Nayar
104Hazirah Aziz
105Yunis Perwaiz
106Hwee-Ching Chee
107&108Judah Cheah & Xiao Wen
109Sarah Angelld
110Jacqueline Price
111Angelus Valentine Morningstar
112Stephanie Chua
113Izzah Ong
114Kishen Sivakumar
115Amierul Redza
116Samyutha Param
117Dheshny Easter
118Sarah Eshu
119Nicole Chin
120Choo Hwei Ming
121Archana Muniandy
122Prassan Dhanagunan
123Henry Kuang
124Cyndi Yam
125Felicia Yoon Pui Shi
126Joe Loy
127Pearl Chew
128Nabilah Rozzani
129Noelle Kan
130Manraj Singh Walia
131Azhar Abd Rashid
132Azira Aziz
133Lauren Borg
134Wei Wern Ooi
135SzePei Tan
136Cadence Kang Yun Wong
137James Choong
138Tan Sri Azif
139HaoShaun Ngai
140Best Lipton
141Timothy Arnold
142Gideon Yoong
143Louis Leong
144Nazirul Zulkifly
145Sian SIu
146Silantoro Nugroho
147Lim Hui Jin
148Aimee Azmi
149Sam Tan
150Karmun Mah
151Suresh Ryan
152Roseeta Rashidi
153Lim Pei Jin
154Mic. Tham
155Aneesah Satriya
156Marlene Miranda
157Chian Chee Liang
158Nicole Curmi
159Ridzuan Noor Aznan
160James Prasad
161Syazwani Rahim
162Nurdeena Bt Anuar
163SzeRhui Ng
164Quanyie Tan
165Caris Teo
166Anand Rooplal
167Reshmi Menon
168Jyotika Damodaran
169Alex Ng
170Siti Izyan Abdullah

171Siaw Lin
172Loo

173Lim May Hsien
174Sarah Lee
175Giselle Er Ka Pang
176 Abygayle Brani
177Gloria Neto
178Ashveen Subra
179 Rachel Danielle George
180 Piriya Dharshini
181Kevin Tan Wei Jian
182Tess Soh


Bottom line thanks everyone who made my day..thanks for all the prezie..
really appreciate it !!

Well what i did on my biggie day was :

Church first thing in the morning as it was SUNDAY!
then off to the fish market with Jack Tran and Tanya..
thanks for the treat guys !!




There is nothing better than having fresh oyster !!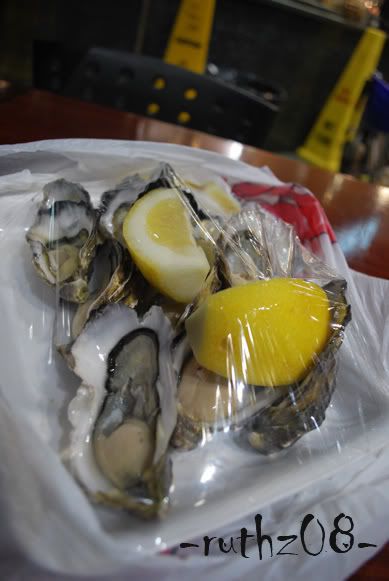 and seafood



Then thanks Deanna, Tanya's sis for taking me all the way to Macquarie Uni for the suprise party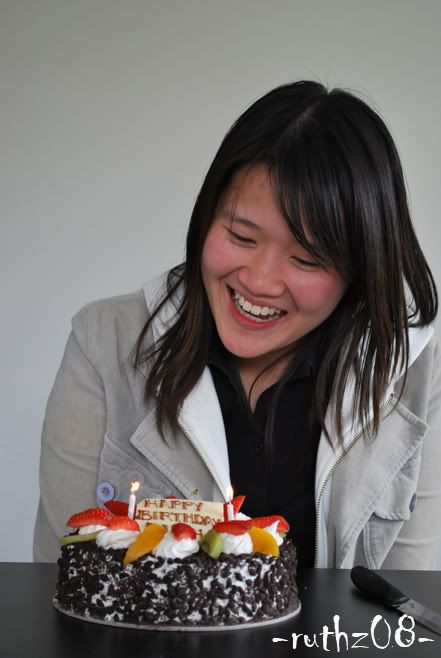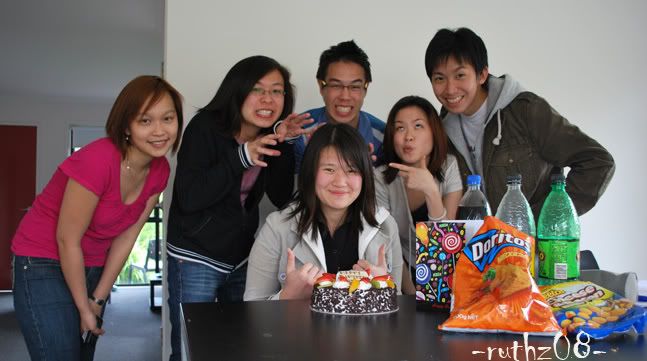 thank you Ai vee, Noelle Kan, Jack Lim, Ashley Tan and Anna for that surprise !!

Thanks to Un Kiah Jee, Aunty Cheng Kwan, Amelia Tan, Jeremy Tan, Un Chong , Aunty Joanne & Aaron Lian for the dinner !!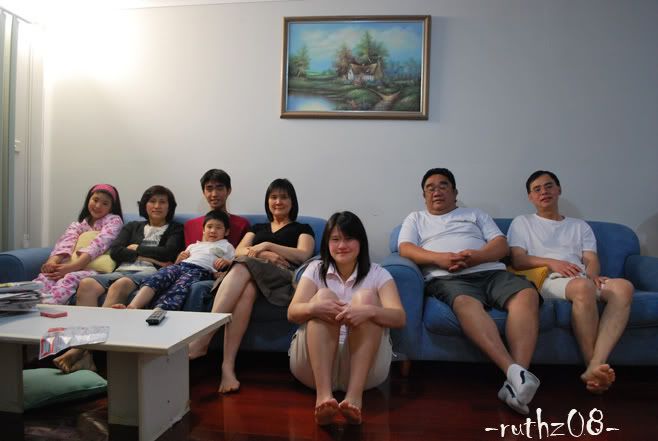 and ICE-CREAM CAKE weeeeeeeee




Bottom line :
Thank you God for all these wonderful people you have placed in my life !
Thank you .. yeah YOU!! for making my day!!

cheers
ruth
Tuesday, December 02, 2008 | Labels: birthday |  
Misc
Cbox
Time Zone
Sydney,Aus
Kuala Lumpur,Malaysia