Entry 357

As 2008 reach its closure
Its time to usher in a new year!
2008 seemed to just swept passes me
it seems it passed faster than expected.

so how has 2008 been for you?
it has been a roller coaster for me ..
well there were up and downs..
fairly interesting i would say
despite of all the ups and downs
i am thankful for everyone who made my year a great one !

yeah YOU !!

thanks for your time and it has been great knowing you !!
hope to hang out with you all soon !!
even if your picture isn't here don't worry bout it coz what is more important is the thought that counts ! Thanks for being a part of my life !!
take care n God bless



Cynthia's B'thday @ Goh's



Schoolies + simone&sis chilling out @ curve

Kindi hang out session

Yc-ians + pearl hang out session

Siblings @ MSSD !
Meeting michele
Chilling @ sunway lagoon with Yc-ians !
chilling with biggie sista .. :P
Cousins randoms over CNY
Chin looi's CNY open house
Szu-Mei's CNY open house
Fiona's CNY open house
G4's gathering @ MV
crab feast w schoolies !
bballers big sista !

Bulli Beach

Toga party



Meeting Adik Se-on !

meeting LeeNa

Antonia's b'thday @ Gym

Karaoke night

The two other asians i miss !!

Meeting the Chee-s in Town with lat lat , eric n mandy

Fluoro night

Road Trip to Imran's
Road Trip to Kiama

Biggie sis Antonia

Biggie sis Gloria

Mid Year Ball

Dinner with Frenchie(Maude) and Chille-ian (antonia)

Food Hunting w the dudes !

Larry's suprise party

Pizza Making

Nimra's b'thday

Gal's night !

Nature Walk @ uni with the crew

Larry's bthday
Ride in the mini cooper !

Back in Fiona's Kembara

mamak sessions with mei yee n siaw lin

Schoolie's Bthday

Hanging out with the big sista-s

chilling in s'land with cousins n relatives

hanging out at Jurong Point Mall

Love my cousins

the msian invading s'land

chilling @ yong peng

schoolie breakie mamak session

meeting up with primary school friends

random day where we decided to watch WANTED !

5Alpha high school class gathering

Hanging out at KLCC w schoolies

7.30am breakie with schoolies @ mamak
mamak session w rachel,lynne n maya

dinner w schoolies

last minute meet up w big sistas

the gang back in high school. miss u all heaps !
the great good friends !

G4's revisit back @ Taylor's

messing around w chin looi's macbook !
met fay mein after years !
meeting kindi friend @ RMIT library !
Rock climbing with my 2 favourite melbourne people !
Kebab with Hawthorn house people !
After Fredo's
Mini G4's gathering
Squash w fav mel ppl !
Yc-ians who are in Melbourne !!
chilling at 910
mini G4's gathering
Rez Bonfire
meeting high school senior mei ling
celebrating some jewish festival
Chilling out w rezis
Friday's BBQ
Doulos Field Trip with OCF Macquarie
Tropic Thunder Gold Class w Rezis
Bents basin
End of year Ball
Bbq @ Yuni's
MY 2 FAVOURITE HOMIES !
THANKSGIVING @ SEVEN HILLS (THANKS TANYA EZROL !)
SLOSHBALL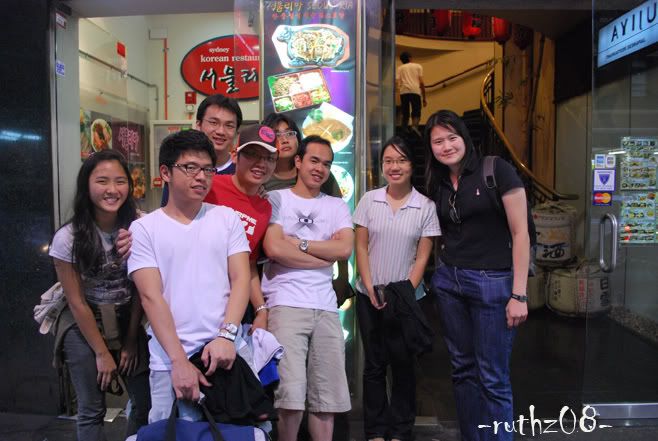 Seoul Ria w Kian chee & ANU's S'poreans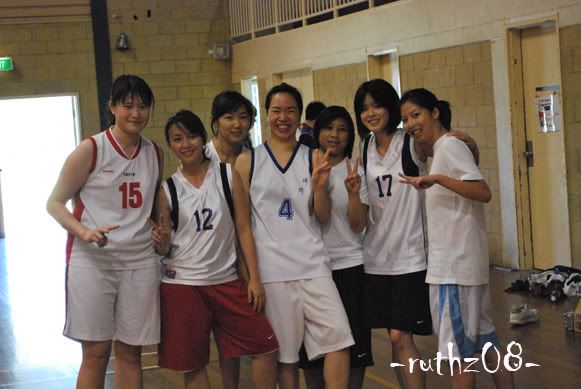 Malaysian Vs S'pore ? bball team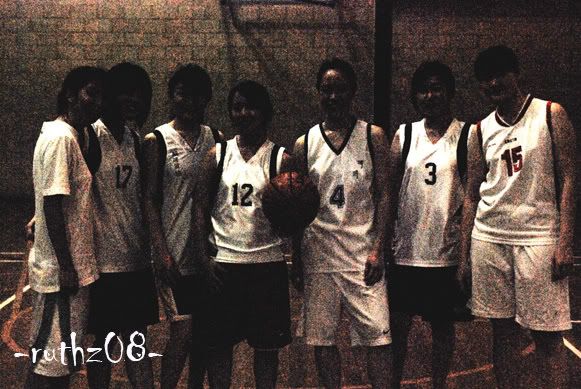 Team Dynamite for mixed comp on tuesday nights !! you guys are a champ !
AWESOME PEOPLE WHO MADE MY BIG DAY A MEMORABLE ONE! THANKS HEAPS !
Madang after bball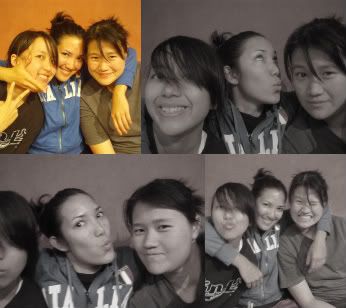 bballers messing around

hanging out w sarah lee
paint brush graffiti @ Graffiti Tunnel (thanks Noelle)

Noelle's 21st !
Christmas Lights
Meeting calvin tan
Leo's b'thday buffet dinner @ Shangri-la hotel
and many more .. but i will stop here
2008 has been an interesting year !
2009 will be better !
HAVE A GREAT NEW YEAR'S EVE FOLKS !
as i end this chapter and move on, thanks again for being a part of my life !
and thank God for this Great family !!
cheers
ruth
Wednesday, December 31, 2008 | Labels: summary |  
Misc
Cbox
Time Zone
Sydney,Aus
Kuala Lumpur,Malaysia