eNTry 195

SO HAVE U OR HAVEN U ??

MADE ANYONE'S DAY ??

if u have noticed my personal message on msn is

'LIKES MAKING PEOPLE'S DAY !! '

in a random conversation with a buddy on msn
he was like i like ur personal msg and i was like why? haha
coz not many people think that way anymore !!
i gotta agree with him..
not many people bother to even greet you sometimes
even on msn..
they will only do that when
YOUR HELP IS NEEDED

so i wanna make a difference at where i am at NOW !
HOW BOUT U ??

oh did u NOT KNOW that you play a role in people's life
you can either make them SMILE or FROWN !!
which also means u can either bring joy to somebody's life
or even become a disturbance sometimes in some people's life !

that is why most of the time i make an effort to SMILE !!
haha oh well DID YOU NOT KNOW AGAIN ..
it takes more MUSCLE TO FROWN THAN TO SMILE !!

So what are u waiting for ?
GO AHEAD AND MAKE SOMEBODY'S DAY..
YOU NEVER WILL KNOW HOW MUCH IMPACT IT'D BRING TO THEM !!
(i mean positive way!)
Neways it isn't a CRIME TO DO SO !!
All you need to do is just a SIMPLE SMILE ..
or whatever...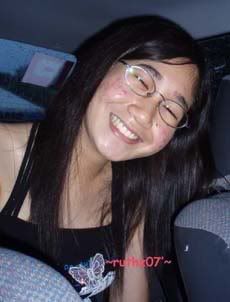 SEE IT'S JUST THAT SIMPLE ...

hope u there did have a great day..
have a great weekend..
take care n God bless

cheers
ruth

p/s- this blog will not be updated that frequent due to upcoming finals..

SO I LEAVE YOU WITH THIS pOST..
TILL then..
Misc
Cbox
Time Zone
Sydney,Aus
Kuala Lumpur,Malaysia