Entry 221




Back home when the clock strikes 12am
on this historical morning 31st August
there will be fireworks all blasting away all over the country
especially at KLCC ..
i'm missing out the clear fireworks view on G hill tonight !

where 50 years ago ..Tunku Abdul Rahman raised his hand up high in the air and declared MERDEKA 3 times in front of thousands of people .. This might look like a simple gesture but heaps of people were behind the main picture getting our country Malaysia which was known as Malaya back then to achieve their independence. I guess thanks to the Japanese who stated "Asia is for Asian" made the people of our country fight for independence.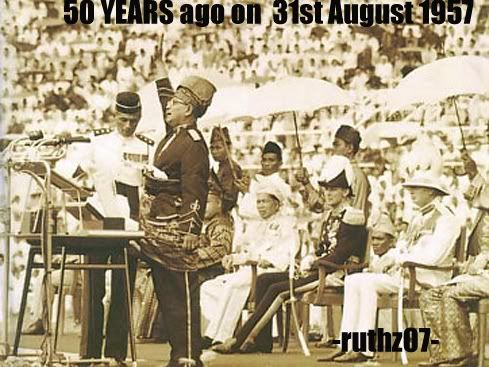 As a lil kid
each year i will try to get myself up as early as i could
to catch the parade on the telly ..
but as i grew older ..
i felt that passion for Independence Day was dying off
it's like a candle not having anymore wax ..
well i treated it as another holiday we GOT ..
which means NO SCHOOL ..those were the skewl days..

Recently when i was home
browsing through THE STAR newspapers..
there was this article about Young Malaysian
where Malaysian throughout the country writes bout' their thought about Merdeka !

just random question .. it's not a TAg .. but u can do it if you want too..
--------------------------------------------------------------------------
..Question 1..
How does Merdeka impact you ?
- erm.. It made me treasure the Independence given to our country.
Makes me wannabe more passionate bout' my country .

..Question 2..
What does Merdeka mean to you ?
-Our country wouldn't be govern by foreigners. Mean our country is able to run on it's own.
Therefore, we have to stand together as multicultural country to move forward to bring this
country to another level.

..Question 3..

How do you feel being a Malaysian ?
- I'm proud to be a Malaysian. Though many people haven heard of my country yet but i will
make it known to them.
---------------------------------------------------------------------------

So
what does Merdeka mean to you ?
treasure it ..
think about the effort heaps of people had given
in order for you too lead a better life ..
which is isn't being govern..
Make this year's Merdeka Day a Special one




Blessed Merdeka Day to All Malaysia ..
Have a great Independence Day ..

cheers
ruth
Friday, August 31, 2007 | Labels: merdeka |  
Misc
Cbox
Time Zone
Sydney,Aus
Kuala Lumpur,Malaysia