Entry 214

It has been nearly a week since i came back down under ..
my week has passed fast !!
well coz it has been uni,sleeping,reading,sporting,eating,sleeping , and etc..
yeah..
been catching up with my sleep lately..

anyway..

DO u have siblings ?
well i have ..

in fact i have 3 other siblings ...
that aint that many coz i know of a friend who has
7 other siblings and she is surviving ... (",)

To those who have siblings :
just gotta a few questions for u ...
1.Do u love them dearly ?
2.Have u ever thought of getting rid of them ?
3.Have you ever thought why God brought them into your life ?
4.Why are they just so annoying ?
5.Cute ? hmph.. u gotta be kidding ... you can have him/her (my fav line haha..)

well it can go on and on ..
does it sound familiar ?

neway ..
when i was back in KL ..
i just pop by a shop .. a souvenier shop..
and i found something special (to me .... )

Siblings are like a Jigsaw puzzle ...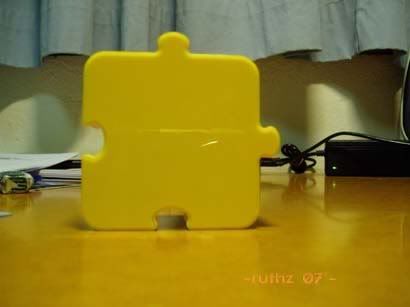 everyone comes in different sizes and shapes..
some siblings may be tall,others may be short,
some may be thin,others may be chubby,
some may be friendly,others may be shy
some may be funny,others may be serious
and on and on


but when we siblings fight ..
the pieces just don't fit one another anymore ...
well i guess the more we fight , the more we bond ..
(it depends also)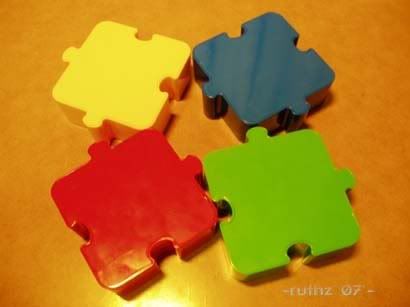 i guess when we fight ,
that is when we try to learn how to understand each another better.
change ourselves for the better ..
coz we can't change others but we can CHANGE ourselves !
sometimes it takes time and effort ,
not forgetting patience ..
but as long as u make effort and play ur part
NOthing Is Impossible ..

Coz what i believe is this ..
siblings are the most incredible gift God has given us ..
He made us all different ..
even LOOK DIFFERENT !!
though they sometimes do get me on my nerves..
but yeah ..
i'm proud to say that i don't regret being apart of them as their sister..
eventhough sometimes we get into crappy fights and arguements..
well it's part and parcel of life !
you can't get away from that
but you can get THrough it !

That is when the pieces of the jigsaw puzzle FITs Niecely =)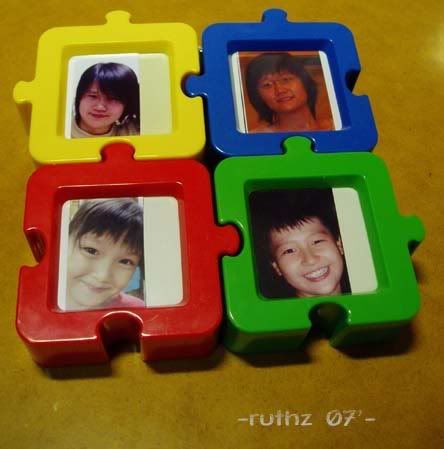 so i urge you to treasure them..
well i'm learning day by day to Love them more ..
i'm not perfect
but i know it is not impossible
as long i try i will be able to ..
that is how i like to think it ..

take care n God bless

cheers
ruth
Misc
Cbox
Time Zone
Sydney,Aus
Kuala Lumpur,Malaysia