Entry 263

Hey peepz..
hahaha i didn't disappear or somthing hahaha
i'm in the midst of finals NOW !!
just got and over with 2 paper ..
now i'm left with the killer paper next wednesday
and i'm DONE !!

Yesterday
when i walked into the kitchen i found something which looks like a bomb/rocket or etc..
yeah it looks like this :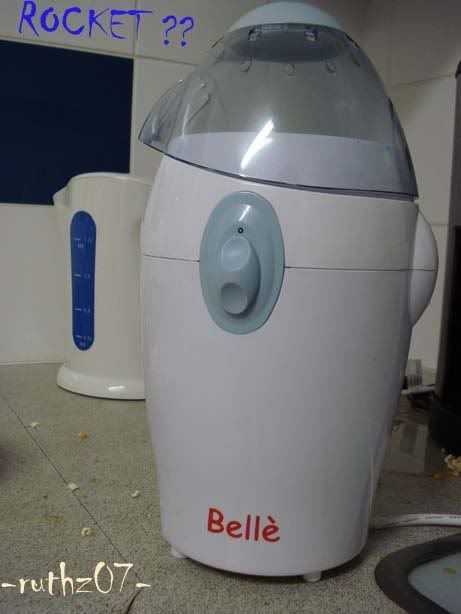 what does that look like to you ??

Loribeth Allison brought this great invention to our house ..
yeah so yeah i haven seen this before ..
it's kinda cool !!
guess what it makes ?! ...




not bomb


not rocket


not explosions




but something you eat when you watch movies ....



yeah

POPCORNS !!!




it's super uber cool !!
it makes popcorns less than 5 mins .. !!



Enjoy the video below .. thanks to a kimbo for the camera !
lol my voice sound weird ... hahahaha

----------------------------------------------------------------------
you can ignore this below :

I'm still e*******
I'm still ei******
I'm still eig*****
I'm still eigh****
I'm still eight***
I'm still eighte**
I'm still eightee*
I'm still eighteen!
I'm still e-i-g-h-t e-e-n!
I'm still e—i—g—h—t—e—e—n!
I'm still e---i---g---h---t---e---e---n!
I'm still e—i—g—h—t—e—e—n!
I'm still eighteen!
I'm still eighteen!
I'm still 18 !
I'm still 18 !!
I'm still 18 !!!
I'm still 18 !!!!

i'm done talking hahaha
heads to the library ...

cheers
ruth
Misc
Cbox
Time Zone
Sydney,Aus
Kuala Lumpur,Malaysia