Entry 266

Heaps of people asked how i spend my 19th ..
Last year of my teen .. LOL !
i better update now coz after my exam i will not have time blogging
there are heaps of things line up to do ade !! yay !!

neway 24 hours before my b'thday my siblings we at my place coz they crashed here
so spent Quality time hanging out with them
and yeah on 22th November 2007 it was THANKSGIVING DAY !
there was like some mini celebrationg @ Resis ..
coz there were couple of Americans here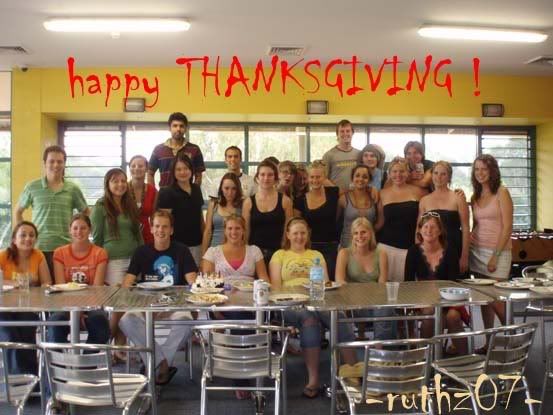 these are some of the people who attended it !
there was turkey , pumkin & pecan&apple pies, mash potato, entree and etc ...



and i had a custom made cake ... by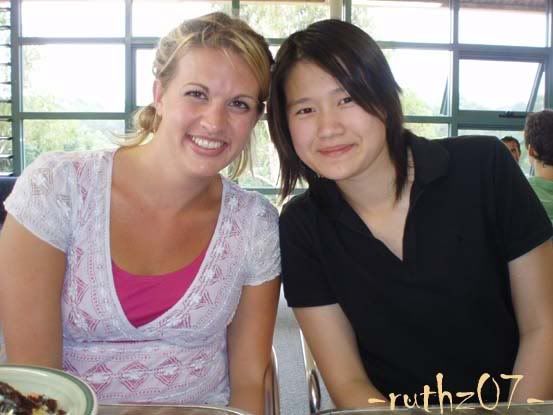 my dearest housmate Larissa Montana !! thanks heaps homie !!
it has been great knowing you !

not forgetting went to the driving range with lil bro and went bush walking too
--------------------------------------------------------------------------

so yeah how i spent my birthday
i studied Taxation Law ..
yup my last paper this wednesday ..
then slept like at an ungodly hour like nearly 5am
coz i was caught up on msn from 3am
at 9.30am my parents came and woke us up ..
Road Trip to Young ..



A place after Yas in NSW called YOUNG where it's known as
CHERRY CAPITAL OF AUSTRALIA.

went cherry picking ..
I love cherries so yeah it was a great place ..
just plucking cherries and eating them at the same time !!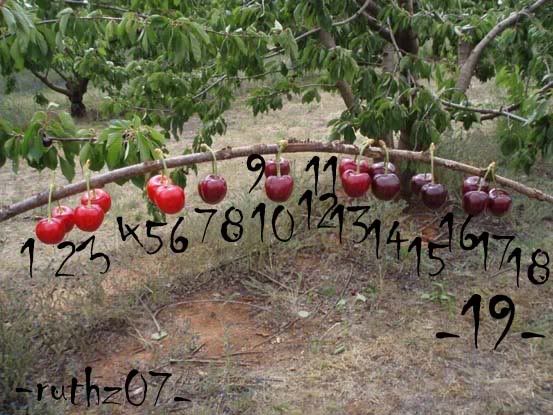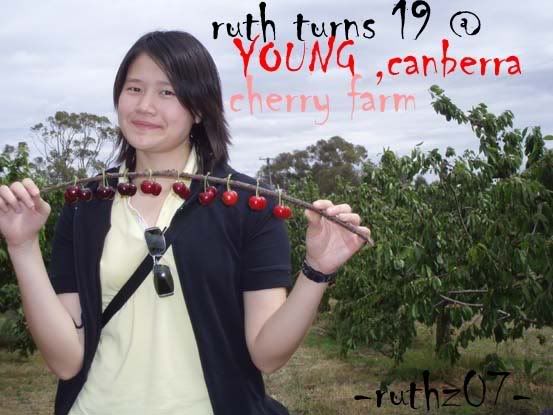 yeah it was a long day ..
did other stuff too .. but i will keep it short ans simple .
coz i gotta head back studying !!
-----------------------------------------------------------------------------

Another Note :
THANKS HEAPS TO ALL THESE PEOPLE BELOW FOR YOUR WISHES !!
via SMS/email/facebook/friendster/blog or etc ..
i really appreciate your lil thought of me
whether it was an early wish, on the day wish and belated one too !
To those who sent sms to my Aus no .. thanks heaps !!
To those who sent ur wishes to my KL no, thanks heaps
but i'm sorry i can't retrieve it because i think celcom has cut my line .. sigh**
thanks to all these people below and others ...

18/11
1.Gloria Charles

19/11
2.Siaw Lin
3.Tess Soh
4.Pui Chin
5.Gayathri

22/11
6.Henry Kuang
7.June Lau

23/11
8.Gan Fiona -yeah you are the first !!
9.Larissa
10.Navin
11.Su Yi
12. Esther Tan YM
13.Lee Na
14.Goh Sue Anne
15.Imran
16.Ivan
17.Raechen
18.Charles Chan
19.Ravind
20.Jien Tim
21.Jia Hai -thanks for calling all the way from india !
22.Melissa Woo
23.Pearl Chew
24.Allison Kong
25.Tan Ai Vee
26. Henry Teoh
27.Wen Zhen
28.Moahan
29.Lim Su Lin
30.Praveena
31.Magdalene
32.Maria Boulos
33.Kian Chee
34.Pranav
35.Yoke Han
36.Rueben Chan
37.Rachel Chan
38. Chun Young
39.Erika Koo
40.Ern Yee
41. Wen Foong
42.Goh Wen Hon
43.Monica Khoo
44.Abygayle
45.Lesley Ling
46.Chee Hwei Ching
47.Rosessela
48.Serena In
49. Wei Peng
50.Wan Lu
51.Murali
52.Adeline Seah
53.Christopher Chan
54.LiLiey
55.Syiqeen
56.Tinesh
57.Dhshny
58.Aliaa
59.Best Lipton
60.Jee
61.Amir
62.Ek Guan
63.David Trautsch
64.Rachel George
65.Ann-Louise
66.Jeremiah Tan
67.Lynne
68.Tanya Abraham
69.Shie Ming
70.Nicole Chin
71.Mabel
72.Yin Fei
73. Tabitha Lim
74.Zhao Xiang
75.Wen Qing
76.Yi Sung
77. Neil Holroyd
78.Cassandra Gan
79.Nimra
80.Yiern Low
81.Hui En
82. Azhar
83.Shernren
84.Sze Rhui
85.Cynthia Khoo
86.Wahab
87.Atisyah
88.Gina Yap
89.Annora Ong
90.Ben Thomas
91.Ee Von
92.Chun Hao
93.Leong Lil Li
94.Mel Choo
95.Choo Jin Wai
96.Pavithra
24/11
97.Chew Mei Yee
98.Aaron Sim
99.Ashura
100.Albert Tan
101.Yeong Sue Ann
102.Liyana Fauzi
103.Bianco Davis
104.Shawn Liam
105.Alicia Shanthini
106.Ivy Ang
107.Stephanie Lin
108.Shu Hui
109.Emily Yoon
110.Amirul
111.Ming Yee
112.Mark Tan
and to others ...

THANKS HEAPS PEEPZ ..
take care n God bless

cheers
ruth


Misc
Cbox
Time Zone
Sydney,Aus
Kuala Lumpur,Malaysia