Entry 299

So it was Saturday.yeah yesterday !! some mates on uni res decided to make a road trip down south! I'm glad we did !! i reckon we all did have fun !
Thanks to my trusty tripod who did most work for me.

neways here are some pics ..
Others are on -Ruth's pics on Facebook- 
check it out there

1st STOP : University of Wollongong..


didn't take many shot there .. but neways we saw a interesting thing !! which was :



it is too high....



and a poser pic of course hahaha
(gloria,me,pranav,eddy)

2nd STOP : BERKELEY



Well we lost our way to the Chinese Temple .. so we stop by here to ask for directions ..
the dudes went to ask for directions but the gals went off to camewhore.. hahaha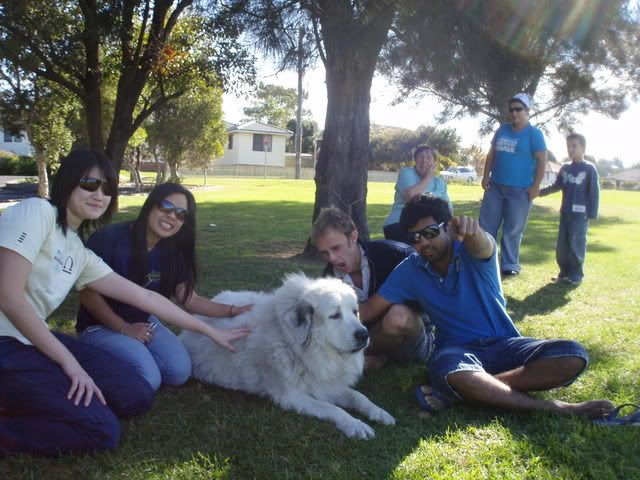 that was when we saw this massive dog and decided to take a pic with it !



and a jump shot too

3rd STOP : THE CHINESE TEMPLE 





outside the pagoda
front:me,gloria,kyle,nicole,melissa
back:pranav,mitch,eddy



us outside the temple ...weeeeeeeee



us outside the temple



us at the waiting place


AT THE TEA HOUSE 



love this shot .. hehe
mixture of milk and tea.. see how an impurity changes everything ..
this reminds me of chemistry!! LOL




just relaxing at the park in the temple ..

4th STOP : KIAMA



The lighthouse .. and some random people wanted to be in the pics too ..LOL



US up on the cliff



And another pic



Just admiring the beauty ..



Cheeseeeeeeeeeeee.............



In the mini cave..



Doing some thinking



and lastly this is the Blow Hole .. Water just comes splashing out of here...

that's all for now .. back to books..
take care n God bless

cheers
ruth

Misc
Cbox
Time Zone
Sydney,Aus
Kuala Lumpur,Malaysia