Yeah like what i mention in the last post..
Today we had friendly basketball (BBALL) match
against ..


CHONG HWA ...

the famous CHINESE school..
which has good bball team..
so mandy fixed up the date for us to play friendly
and it was yesterday at night..

so here are some of the pics i took la..
enjoy the pics..



the center of the court...haha duno why i took it also ..



the indoor bball court..super nice..
wished i had it nearby my house



during the game

and guess what..

WE WON ..

41 - 39

it was close....
but still we WON hahaha......



the team.. (TAKE 1 )

front : me & mandy
center : sarah . nicky . gaya .
back : ching . dinda . monica . jan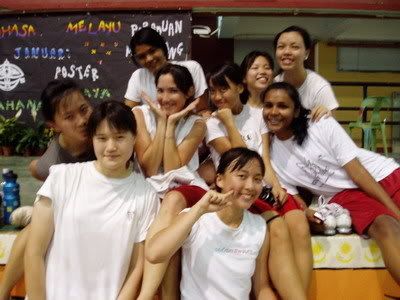 TAKE 2 ..candid



gayathri ..
the woman that ada gaya..she shot 3 pointer duh!!
haha this pic is like for 100PLUS advert.



semangat study wei..



gaya & me

yeah that's bout it..
it was a good game..
chong hwa kids were good..
admire their speed & teamwork..
wish i could be in such a team with such high bball spirit
like it is flowing in their blood .. =P
the feeling of being in a game was so nice..
it has been a long time since i felt that way..
and thank God i didn't get injuired..
kinda tired..
take care all..
God bless

cheers
ruth
Misc
Cbox
Time Zone
Sydney,Aus
Kuala Lumpur,Malaysia