Entry 112

iF you think you are unlucky what About me?

on WED
Got saman coz didn't park in some parking lot
and i went to cut hair happily..
haihz..
only noticed there was the saman paper on my windscreen
which i thought it was some advertistment..lolx
till i saw something which resembled MPPJ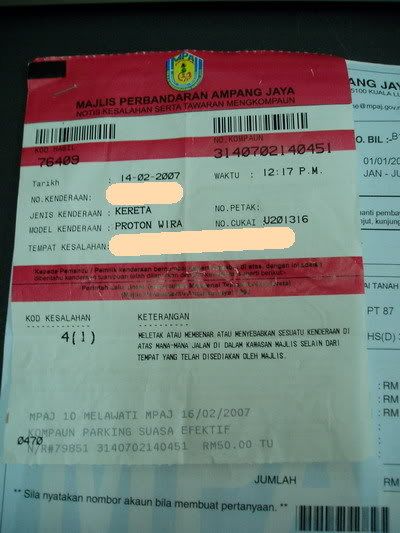 on THURS

Got cut by a tin..
had to go for minor operation..
after 12 hours of bleeding..
THanks God i am still alive..
and need not cut my thumb
though i couldn't sleep at all..



-this is the only pic i can provide on my thumb for now-

on FRIDAY .. today

supposed to meet up with my friend at the MAMAK!
ok what does MAMAK mean to u?
some indian muslim stall rite?
i got up like before 8am to meet my friends..
and waited at the stall for half an hour..
when i was waiting..
i thought they FFK ME
or maybe this isn't the MAMAK..
so i decided to check up the other MALAY STALL
which i found them there..
see .. MALAY's calling A MALAY STALL A MAMAK!!
haihz..
but at least i met up with them..

so if you count yourself unlucky?
WHAT BOUT ME?
haihz..
eventhough you may think it's UNLUCKY
BUT I WILL NOT IT BE THOUGHT AS UNLUCKINESS
i will try to think the positive manner
if you keep thinking the pasive manner
you will not go anywhere..
SO IN EVERY INCIDENT
THERE IS SURELY A REASON TO IT!!

take care N GOD BLESS

cheers
ruthz
Friday, February 16, 2007 | Labels: - ME - |  
Misc
Cbox
Time Zone
Sydney,Aus
Kuala Lumpur,Malaysia