Entry 418



(Taken at Imran's, it is NOT MINE!!!)

Another week has come and its the weekend again.
Time just flies when you are pretty occupied.
Have been working on uni work. yeah typical uni student life !
Received a group assignment back which we did fairly well.
Just gotta do good in finals now !!
Submited the last group assignment on wednesday.
Down to an online quiz and a presentation.

Group assessments are interesting and otherwise.
It is the two extremes but it will be good if it could just be a balance of both.
You get to meet people whom you never thought you will talk to.
You either build a friendship or otherwise.
This semester i had two massive group assessments.
And i have to say I'm glad to be able to work with them
Despite of all group dramas and etc ..

Anyhow my week has been jam pack with heaps.
It started on Sunday

when i listened to a podcast by Joyce Meyers
Title : One Thing You Should Never Do… (click on it)
The main I got impacted out of it was this :


"So often People want to feel it before doing it"
"YOU HAVE TO BE COMMITED TO DO IT NO MATTER WHAT YOU FEEL LIKE!"
Later that Sunday, while playing Guitar Hero with my housemates and some friends,
an unexpected visitor came and just kept me smiling all night. Like seriously!
In life you will meet heaps of people !
Some will strenghten you while others will bring you down.
As I was saying, I was shocked to see this friend at my door.
To be honest, this friend would have been the last person i expected at the door.
At that point in time, I felt really glad that this friend took the effort and courage
to come up to me despite of our interesting history that lies in the past.
You can't imagine how happy I was that night.
It was like everything that happened in the past just disappeared.
Have you ever felt like sometimes things gets too hard in friendship?
When your heart just feels tired and weary and you think you had enough.
Well I was in that state but despite of the my position of my heart,
I found myself still concerned and worried about this friend.
I reckon i moved on but at times I wondered how this friend really is really doing.
Therefore, the unexpected visit was awesome beyond words.
It just blew me away.
I have to say it was a breakthrough.
It left me smiling and a peaceful heart ('',)
God is a good!
He just amazes me over and over again especially when i least expect it!
So no matter what season your friendship is in, hang in there.
I reckon there is always something to learn out of it.
Be it the experiences to take away or the ups & downs.
It is all part and parcel in friendship.
In life you will meet many people
will stick to you to the end
In no matter what season of life you are in
True friends are friends who will
Pick you up when you fall in the pitt
Push you to further heights
Friends will come and go.
Bottom line is not how many friends you have
or will you still have friends down the road
But HAVE YOU BEEN THAT GOOD FRIEND?
Yesterday some friends decided to head up north to visit a friend.
It was a rather spontenous and random.
But it is good to go away sometimes to just unwind and refresh and get back on track.
What is more random is how i met these guys !
I think it was my first year of uni when i met these Nanotech dudes while playing sports.
They were all playing pole soccer and i just joined in and played with them.
I am glad i met these dudes, they have been awesome and good friends.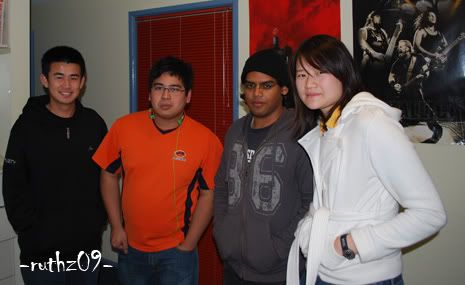 ivan. phil. imran. me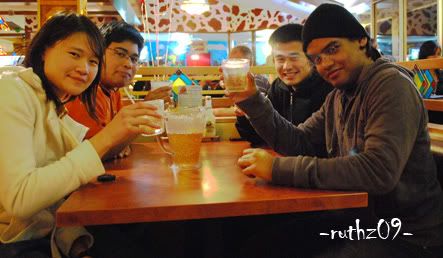 Us at Spurs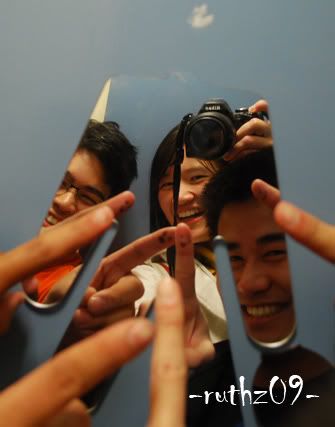 just doing random stuff
Don't you just love your friends?!
Have a great weekend folks !
take care n God bless
cheers
ruth
Misc
Cbox
Time Zone
Sydney,Aus
Kuala Lumpur,Malaysia